e-mobility
Eletoyia's deep research experience with Photovoltaics electric vehicles has led to the fulfillment of a life-long goal: to transform the conventional Cypriot electricity network to a Smart and Green energy production factory, through remote Photovoltaic installations, battery storage systems, and remote/residential EV charging stations. Our clever energy solutions, in the form of cutting-edge technological systems and computer algorithms take Cyprus a step further in the near Future, where electric cars, green energy technologies, energy storage will predominantly alter the Cypriot energy market.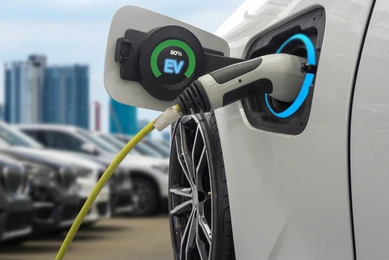 For Business
Utilize Eletoyia's Powerful EV Chargers and Use Them to Host EV Fast Charging Stations to Attract Customers and Build Brand Loyalty
When we started our EV charger business, we used our imagination to move much further than just electrifying cars. This line of reasoning is what brings Eletoyia to the front of innovation: building a novel EV infrastructure throughout Cyprus to make EV charging accessible for everyone.
Together with strong partnerships and industry leading equipment, Eletoyia continues to develop the EV charging infrastructure that Cyprus needs, promoting clean energy and meeting the growing needs of nowadays EV drivers. Our company's diverse EV chargers line-up boasts the most advanced equipment in the industry. In the true sense, we are driving the EV industry forward through our innovation and passion.
For Drivers
Charge on Destination
Significance of Destination Charging
A common problem Cypriot EV drives nowadays face daily! Drivers of electric vehicles may save a lot of time by charging at their destination rather than at a charging station along their route. This is preferable to having to make a second or third stop at a DCFC station after leaving the hotel.

Furthermore, long road journeys benefit greatly from destination charging. Because plug-in hybrids' gas tanks can carry them for 300 miles or more, this doesn't apply to them, but it's a huge boon to fully electric vehicles ( Battery Electric Vehicle). So, if you are an EV owner, you must know the charging challenges while on important trips or voyages.
One-Stop Solution to All Your-On-The-Go EV Charging Needs
On long trips, you need a fast DC charger when you only have 20-30 minutes to charge your vehicle at specific stops. By supplying DC directly to the battery rather than via the onboard charger, DC fast charging has the potential to boost charging speed significantly.
Some cars may acquire an 80% charge in under an hour using the market's most presently available DC fast chargers. However, this varies depending on battery size, power, and other variables. But with Eletoyia's DC EV charger, all the vehicles can acquire that in way less than an hour so that no trip is hindered.
Residential
Trust Eletoyia's Powerful and Sustainable EV Charging Infrastructure for Life!

Eletoyia's residential EV chargers give electric vehicle drivers peace of mind daily. The majority of EV owners prefer to charge at home; that's why reliable electric residential charging solutions are necessary.
More people are converting to EV driving because of the sustainable energy trend worldwide. That's why Eletoyia offers revolutionary home charging solutions that put the drivers first. We take pride in having innovative residential EV solutions ready to install today.
Why Do You Need A Home EV Charger?

You feel entirely at peace at home because it is your sanctuary, so why not use it to charge your vehicle as well? Eletoyia's residential EV charger line makes recharging your electric car a breeze. So, you can kick back and relax while our chargers take care of your power needs. With its simple setup, hassle-free maintenance, and mobile app, Eletoyia's EV chargers are an ideal addition to any household.
3X faster charging than standard charging cables that come in a new EV.
Flexible Solutions
Affordable, innovative, versatile, and compatible with all-electric vehicles.
Forward-Thinking
We are prepared for the mobility of today and tomorrow
We are prepared for the mobility of today and tomorrow.
Industry-Leading Environmental Resistance
The residential EV charger from Eletoyia is designed to work with your schedule and lifestyle. Whether you're hosing down your car after a dusty road trip, giving it a sleek sheen, or just watering your yard, your charger will remain dry and secure.
For fleets

Eletoyia Can Install EV Chargers Everywhere in Cyprus!
Our public/governmental EV charging solutions can install electric vehicle chargers enhancing the value of parking lots. We promise that you will be kept up to date and in control at all times, thanks to our dedication to providing excellent customer service and follow-up care. We partner with the country's most trusted names in EV charging points to provide EV charging options that work for you.
Workplace
Public Park
Fleet charging
Chargers and Accessories
Terra AC wallbox: provides tailored, intelligent and networked charging solutions for any business, home or location.
Benefits:
High-value quality
Futureproof flexibility
Safety and protection
Specifications:
Single phase up to 7.4 kW / 32 A
Three phase up to 22 kW / 32 A
Input/ouput voltage: IEC: Single phase: 184–276 V, 50/60 Hz UL: Single/ split phase: 208 – 240 V, 50/60 Hz IEC: Three phase: 320–480 V, 50/60 Hz
MaxiCharger AC Wallbox (7.4kW | 11kW | 22kW)
Benefits:
Fast AC Charging
High Reliability and Durability
Cloud Based Smart Charging
Specifications:
Single phase up to 7.4kW/32A;
Three phase up to 22kW/32A
Input/output voltage: 230V±15%, single phase; 400V±15%, three phase; 50Hz
Connector type: IEC 62196 type 2 or type 1 plug, 5m IEC 62196 type 2 socket or socket with shutter